Our Middle School enjoyed the invigorating experience as we participated in the 2017 version of the "Annual Health and Wellness Week," with the theme of  "Building A Stronger Community."
The week's Opening Ceremonies introduced the focus and schedule of various festivities during our Monday Morning Meeting. Dwight-Englewood's executive chef, Luke Kuchavik and Director of Dining Services, Terri Pisack, shared the importance of eating good, nutritious, and healthy food with portion control. Informative "Healthy Eating" posters were then unveiled, which demonstrated the importance of drinking water as well as "Pre-and Post-Exercise Nutrition." The assembly commenced with a teacher vs. student push-up contest.
Tips for "Healthy Living" were sent to each teacher and student via email from our Middle/Upper School Nurse, Sara Schulman and Coach Muller throughout the week.
Each day during recess, there were "Teacher vs. Student Competitions." The challenges included activities such as jump roping, planks, the iron cross and wall-sits. Some students enjoyed "The Quiet Zone" meditation session during Tuesday's recess, and every HomeBase and Upper School Advisory Groups participated in a Walk-a-Thon during the home base period.
On Wednesday, each HomeBase took part in playing one of two games, "Health and Wellness Jeopardy" or "Gratitude Pictionary." It was a time of fun, group bonding, and learning some fun-facts of healthy living. The day featured a healthy meal that included grilled chicken, brown rice, vegetables, and…SMOOTHIES!!
Finally, on the last day, the week's focus culminated with the "Health and Wellness Assembly" in which each MS grade level went to separate locations and experienced activities such as yoga (taught by H&W teachers, Mr. McCarthy and Ms. Wood), meditation (Mrs. Segar), and Zumba (Ms. Wittner). Everyone had a great time!!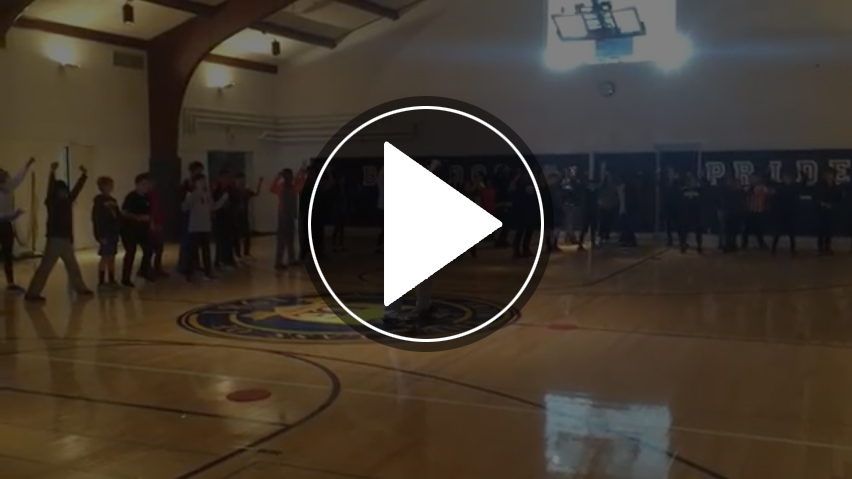 Click here to watch the Zumba class during MS Health and Wellness Assembly.