What's Happening in Classrooms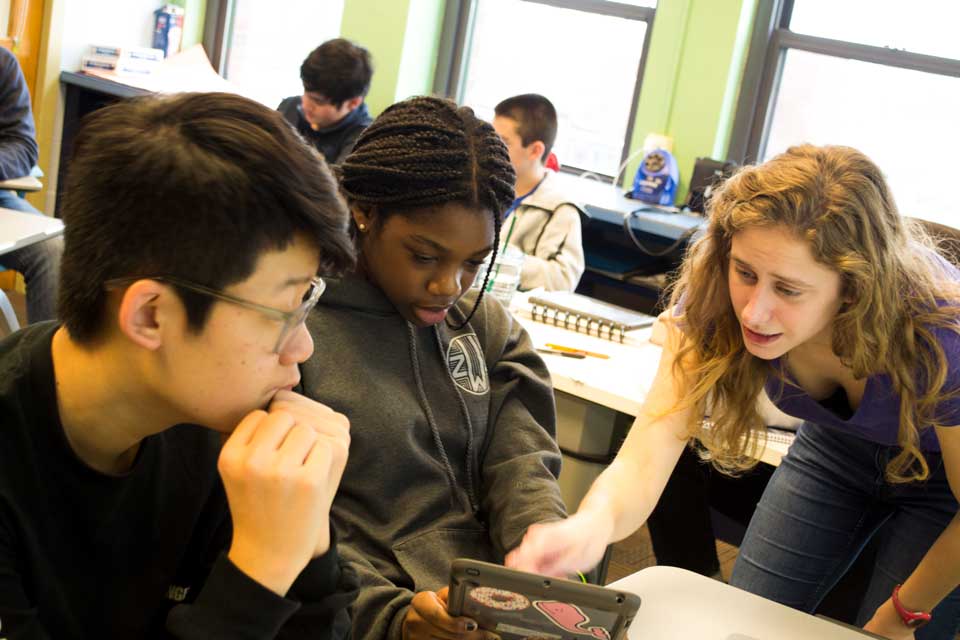 6th Grade:  April promises to be a busy month in sixth grade! In science, students were treated to a visit by Immunologist (and D-E parent) Dr. Julie Rubinstein. Dr. Rubenstein and one of her colleagues spoke with our students about their work at adaptive technologies, mainly with the immune system (see photos above from their class visits).  The students also will be finishing up the Human Anatomy unit with their Human "X-Ray" drawing project and a frog dissection. Then, the students will be learning about Newton's Laws of Motion and taking a trip to the U.S.S. Intrepid for a flight lab. This trip is scheduled for April 20.
In Math 6, students will be starting a unit on circles. Students will review diameter and radius, construct circles, and relate the area of a circle to its diameter and radius. Then, students will determine the circumference or area of a circle when given its diameter or radius, and figure the perimeter and area of semicircles and quarter circles and related figures. In Advanced Math 6, students will be answering the question: "What is the steepest set of stairs on the D-E campus?" Students are working in groups, deciding how to explore, implement ideas, and represent their findings. In Hyper Math, students are working on linearity and systems of equations. They are also working on a project to find the relationship between the length of a pendulum and its period. Since they are doing multiple time measurements, they have to do some statistical analysis (calculating the mean and standard deviation of their measurements) to decide how accurate their measurements are.
In English, students started a new novel this week called Lions of Little Rock by Kristin Levine. It takes place in Little Rock, Arkansas in 1958, the year after the Little Rock Nine. The students will be finding their own themes in this novel, and eventually they will be writing their second analytical essay about the themes they track.  In social studies, students will be finishing up their Greek Timeline Projects and then they will begin the study of the Minoan and Mycenaean cultures of Bronze Age Greece. This study will culminate in the first social studies essay of the year. As a grade, we will also be participating in service learning work this month. Students will learn about food issues facing the state of New Jersey through workshops, and then they will be helping to build a garden for the Center for Food Action in Englewood. This work will be a nice connection to our Identity Unit.
7th Grade: Our science classes completed their unit on experimental design. This week they wrote formal lab reports and included a graph from Excel using skills learned in math class.  In English, students performed their poems for their classmates and teachers during our Poetry Café in Hulst House and Hajjar Auditorium (see photos below). 
In math, students continue to work on equation solving and writing equations from given real world situations.  Students are also creating graphs to accompany their articles for social studies.  In social studies, students are now working on writing their Global Goals articles after spending the past couple of weeks developing ideas and researching. With these articles students are hoping to in at least some way answer the question, "are we moving towards a better world?"
8th Grade:  In celebration of April as National Poetry month, the 8th grade is preparing for Poetry Day in the library. Students will choose a poem to study and analyze and then recite for their classmates. In Math class, they are learning about linear equations and polynomials in preparation for their SciTube projects for science class. Each student is considering the statement, "Our Planet, Our Problem," and designing experiments or models that reflect different natural problems that affect our Earth.  Finally, in history class students are studying the events leading to the Holocaust. The final project for this unit will use survivor testimony to answer the question, "If you could ask a survivor any question what would it be?"
Our 8th grade African Drumming class will be performing at the Lower School Assembly on April 12. Our drummers will be sharing the music they've been learning with the entire Lower School student body. The performance will feature the 8th grade West African drumming and dance ensemble performing 3 pieces, with special guest artist Mama Yaa.
Spanish 8 is studying the culture of Spanish-speaking countries and the contributions of Spanish-speaking cultures to the rest of the world.  A hands-on component of their study involves planting, harvesting and cooking vegetables brought to us by these cultures. The photos here show Sr. Bautista's Advanced 8 class starting tomatoes in the Lagana Greenhouse, from seeds saved from last years' harvest.
This slideshow requires JavaScript.