In the Garden: It's seed-saving time!  7th grade DIG students practiced wet and dry
seed saving techniques and begin their study of seed types and the anatomy of a seed. Parent volunteers enjoy fried green tomatoes prepared by the students.
MS Student-Leaders: It is that time of year again . . .  the D-E Lower, Middle and Upper Schools are running a food drive to help local families have food for the Thanksgiving holiday. In the Middle School, the drive is being organized by students who are interested and want an opportunity to take a leadership role. This year, we have a committee of seven young adolescents who will organize, publicize and lead this worthwhile event. Look forward to more details about the School's annual Thanksgiving Food Drive, in the near future.
Upcoming Events:
In addition to the Parent Forums for the Middle School take place starting Tuesday, November 7 (for Grade 6)  in Hulst House at 8:30 AM, other upcoming events include special events for D-E parents/ guardians only as well as the entire family.  For details on these and other D-E School upcoming events visit www.d-e.org/calendar or go to http://pa.d-e.org/category/ms/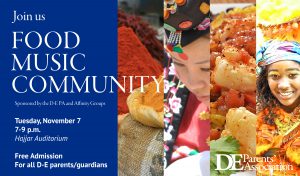 Enjoy! On Tuesday, November 7, all D-E parents/guardians are invited to the Parents' Association (PA) and Affinity Groups evening event, "Food, Music, Community" at 7:00 pm in Hajjar Auditorium.  Enjoy global flavors and live music performances. For details and to RSVP please click here.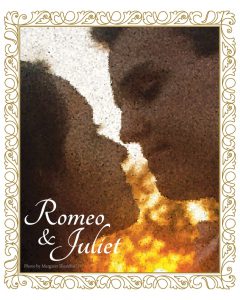 Friday, November 10 – Saturday, November 11 Upper School Performing Arts Department presents Shakespeare's  Romeo & Juliet in Hajjar STEM Center. Go to www.d-e.org/arts for details. Tickets are $15 each (general admission) and are now on sale in the School Store.
Save the Date:
On Thursday, November 30, please join us for our annual MS Winter Arts Festival at 7:00 pm. Our students ensembles have been working hard in their instrumental and other musical ensembles to prepare for this event. Show Choir is planning to present their interpretation of the Broadway hit musical "Joseph and the Amazing Technicolor Dreamcoat," which tells an ancient story with a timely message about a country in crisis and the power of forgiveness.