Message from Jonathan Davis, MS Principal
Greetings Middle School Families,
It has been a whirlwind first three days in the Middle School.  I've enjoyed having the positive energy of the students around the building, as it was too quiet by the end of the summer.  I also appreciate the students' patience with me as I try to learn all of their names as quickly as possible!
At the Middle School afternoon assembly on Tuesday, I talked to the students about my two school rules: be nice & do the right thing.  While these two guidelines are easy to remember, they can be hard for students in this age group to follow consistently.  I appreciate your help in re-enforcing to your student the importance of being nice to others and stepping up to do the right thing.  This is a passion of mine, and you'll be hearing more from me about it during the year.
I also want to pass on a few calendar reminders before the week ends.
First, our New Parent Orientation is next Wednesday, September 12, from 7:00-9:00 in Hajjar Auditorium (all 6th grade families because you are new to the MS, and all new 7's and 8's).  For details click here or see the note below.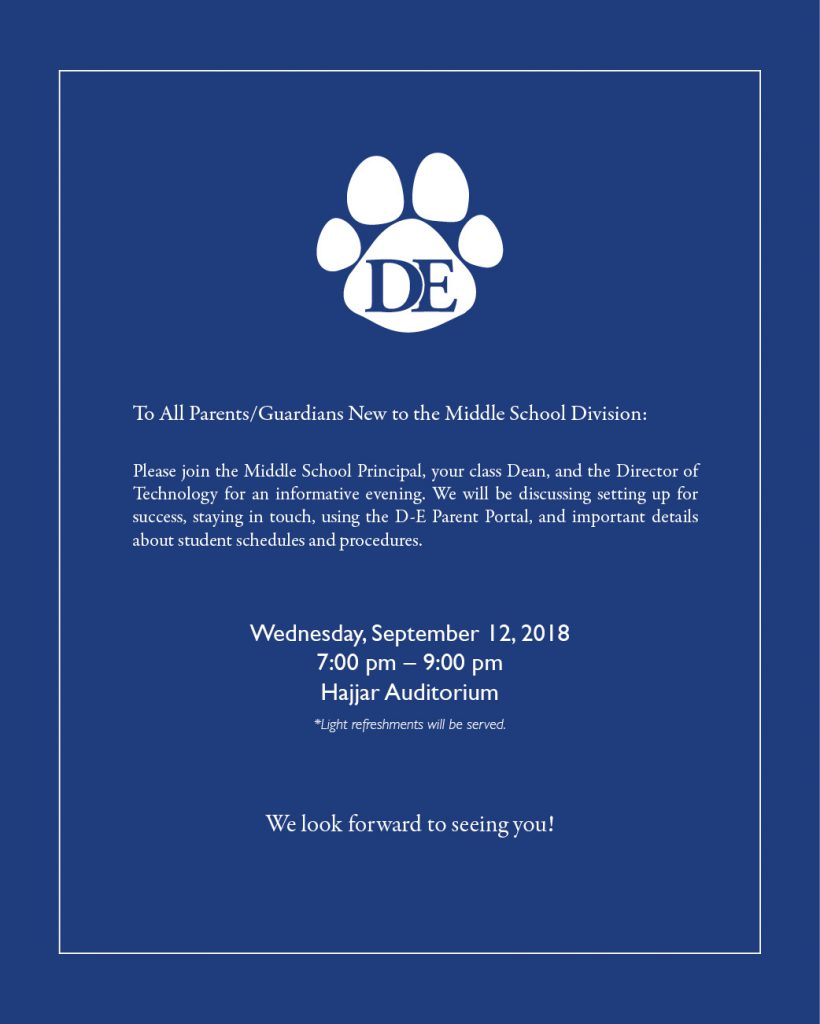 Secondly, Middle School Back to School Night is Thursday, September 20, from 6:30-9:15.  Please come, meet your student's teachers, and get a small sampling of what life is like in the Middle School.
Finally, Middle School Picture Day is Wednesday, September 12.  Be aware that this is a big day for many students, as they want the yearbook photo to be just right. Unless your child is wearing a necktie, our photographer suggests they avoid wearing white shirts. To print/download the MS Picture Day 2018 Order Form (PDF) please click here and have your child(ren) bring their completed form with them. This form is also available on the Start of School website page at www.d-e.org/startMS.
See you around campus soon!
Sincerely,
Jonathan Davis
MS Principal