Folks,
In my last issue of MS Messages, I shared with you three tips to help you work with your young adolescent on organization skills. Getting organized can make life easier for middle school kids, especially as they learn to cope with more school and home demands. As we start our second semester of school, these tips (based on the work by Lexi Walters Wright) may prove to be timely!
Tip 1: Establish a weekly 'Clean out your Backpack and Levenger' time! Middle schoolers can accumulate an unbelievable amount of clutter. Some children have a hard time figuring out what's important, so they keep everything. Other youngsters don't follow a regular organization system for papers and handouts. If your child sounds like one of these, you can help by setting a regular time each week and helping your child learn a system that will work for him.
Tip 2: Create an organized study space. Where does your middle school child do her work? It helps set the right tone if there is a dedicated space at home where your child can work without interruption. It might work best if this is somewhere near you for times when she needs your assistance. Keep school supplies and technology such as calculators or iPads handy and fully charged.
Tip 3: Help your child think ahead. Before bedtime, review plans for the next day with your child. This can make your middle school youngster feel more secure and in control. Together you can plan how to handle things if a change comes up in the schedule.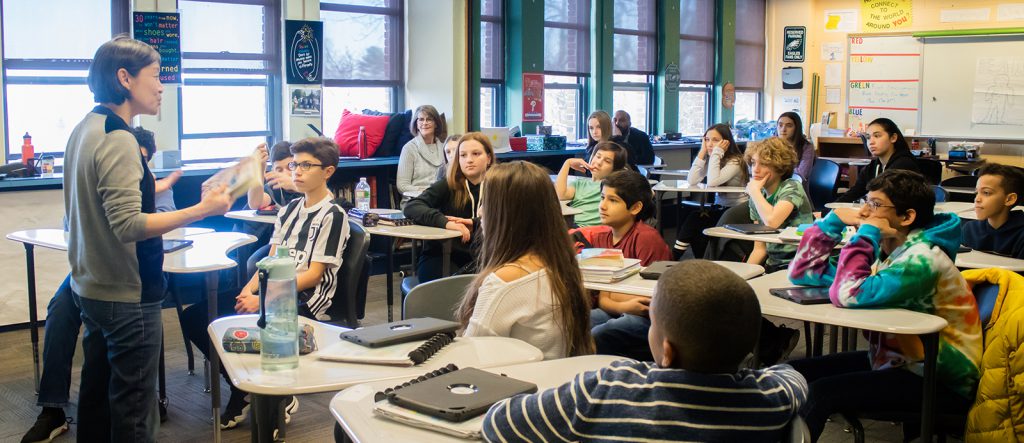 I have included in this issue some photos from a recent visit by the wonderful author An Na, when she met recently with both Ms. Winters' and Mr. Akula's Grade 7 English classes. Ms. Na's book A Step From Heaven won the annual Michael L. Printz Award from the American Library Association recognizing the year's "best book written for teens, based entirely on its literary merit".  A Step From Heaven was also a finalist for the National Book Award, Young People's Literature.
Hug your child, and Go Bulldogs!
Kathy Christoph
MS Principal