Folks,
Getting organized can make life easier for middle school kids, especially as they learn to cope with more school and home demands. At home, you can help them practice and learn and while it might take some effort in the beginning, it's worth it in the long run. Here are three tips to help your child improve organization skills at home, at school and beyond (based on the work by Lexi Walters Wright).
Break tasks into chunks.  Help your child household chores into smaller, more manageable steps, and help your child realize that the vast majority of our D-E projects are already broken down into chunks.  This will help reinforce to your child each project has a beginning, middle, and end, which can make the chore or project feel less overwhelming.
Make checklists and to-do lists. Include regular chores and homework on the lists. Encourage her to keep it in a place where she'll see it often and can check off her accomplishments. Think about using a smart-phone app, a white board, or a notebook.
Teach calendar and time-management skills. Encourage your child to write down important tasks in a digital calendar like My DE or on a paper one. Then help him estimate how time each task will take. After he completes the task, ask whether his estimate was accurate.
On Thursday, January 18, Mr. Schade will host the 2018 Dwight-Englewood Geography Bee during activity period. This bee is a part of the National Geographic Geography Bee competition. The winner of the school bee will take a qualifying test the following week to see if he or she will qualify for the state bee. If qualified, the school champion will have a chance to compete in the state bee and qualify for the national bee in Washington D.C.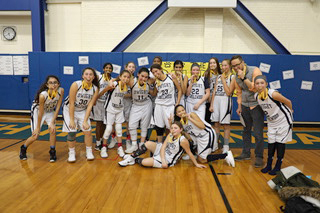 Special Shout-Out to our MS Girls' Basketball Team which won 2nd place in the South Hackensack Basketball Tournament! Go Bulldogs!
Finally, two (2) quick reminders on behalf of the D-E Parents' Association (PA):
Tonight, Wednesday, January 17 at 7:00 PM, the Parents' Association (PA) is hosting a "Mindfulness for Parents" workshop featuring educational consultant Nancy Siegel. The workshop is offered for free admission and will be held in Hulst House in Leggett Hall (please note this is a new location for this event). Guests of D-E parents/guardians are welcome to attend. Click here for an informational flyer (PDF) or visit d-e.org. To learn more about Nancy Siegel click here.
Yum! Next Tuesday, January 23, Middle School students will be able to enjoy the PA's "Bulldog FOODraiser 2018" event which benefits student activities. During lunch students will have the option to purchase specialty food items, including empanadas, cupcake cones, sushi, and more. Regular lunch offerings will still be available from the School's Flik Dining Services. Click here for an informational flyer (PDF) or visit d-e.org.
Questions regarding PA events? Email to: pa@d-e.org.
Hug your child(ren) and Go Bulldogs!
Kathy Christoph
MS Principal