Kathy's Message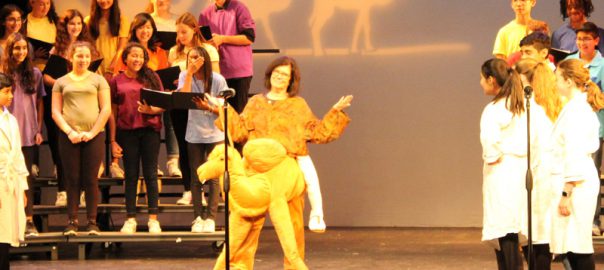 Folks,
I always enjoy our Winter Arts Festival, and I hope you had the opportunity to attend last Thursday's night performance and display of artwork. From the look of pride on their faces, your youngsters enjoy making a beautiful piece of artwork to hang on the wall, acting and singing on stage, or playing a musical instrument in concert with other members of the group. Besides the sheer joy of it all, the arts also help youngsters develop some of our Student as Learner (SaL) traits. For example, while it may seem like a no-brainer, the arts allow students to express themselves in creative ways. During the course of the year, your child may recite a monologue in 4 or 5 different ways, create a piece of artwork that represents a favorite memory, or compose a new rhythm or piece of music; I need only recall the African Drumming performance to know this to be true.  Additionally, there is something special about getting up on stage and singing or playing an instrument.  Our Grades 7 and 8 African Drumming Ensembles provided the opportunity for the audience, too, to "get up on stage" – click here to enjoy a video clip of their performance.
Stepping out of one's comfort zone like this gives our students valuable experiences in risk-taking and self-confidence. And of course, perseverance, a favorite trait of mine, comes into play with the hours of practice that go into that beautiful drawing, song or musical piece. Well done, all around! 
As a reminder, we are heading into the busy month of December. It is wise to remember that many teachers often like to bring closure to their classwork prior to the upcoming Winter Break. Your children may be putting the finishing touches on final projects and assignments and studying for unit-tests. Here at school, the Deans and I monitor the number and frequency of major assignments and tests in our on-going efforts to maintain healthy home-school balance. However, given the busy time here at school and often at home as well, you may want to engage your child in a conversation about time management and stress-management. It can't hurt!
And please remember: Parent-Teacher Conferences are this upcoming Thursday (Dec. 7) and Friday (Dec. 8)!