Folks,
That hum you hear in the air is our Middle School community, with students and adults alike engaged in learning, growing, and excelling! It has been another note-worthy week—our 8's are discovering their passions and learning ways to be socially active with their "MaD" projects, the 7's are researching the impact of animal conservation, and our 6's are deep in the midst of their newly re-worked Identity unit. What great stuff! To learn a bit more detail about each grade, read the Grade Level Updates below.
A quick note about Honor Roll: Every year during our first semester, Dwight-Englewood Upper School (and 8th Grade) recognizes those students on the Honor Roll with a certificate.  Students on the Honor Roll have maintained an average of 85 and above in their classes over the period of a semester.  If your child is on the Honor Roll for Semester 1, certificates will be mailed out next week.
I have also been asked to share the following with you:

Mr. Waltman's home base is having a used sports equipment drive this week at the Middle School. Students are collecting used equipment to give to organizations that have children who cannot afford their own equipment.  If you have anything around the house that you are eager to get rid of:  basketballs, sneakers, ice skates, baseball/softball gloves, etc.,  please bring it to the Umpleby Hall Lobby.  The students would love to collect it and find a good home. You will also have a nice, clean garage.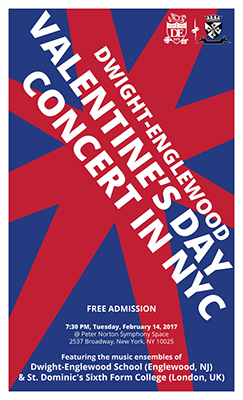 Arts lovers, anglophiles and all in the D-E community are invited to enjoy an evening of free music on Tuesday, February 14 (Valentine's Day) in Manhattan, featuring D-E student musicians! Our Upper School music ensembles will join with visiting music students from St. Dominic's College in London, UK. The concert is at Peter Norton Symphony Space in New York, NY on Broadway at 7:30 PM, and is free admission. Click here for more details.
Middle School families are reminded of the D-E 360° FREE Hip Hop Enrichment Workshop tomorrow, Saturday, Feb. 4 with instructors from NJ PAC. The Workshop is for Grades 4-9, from 10:00 AM – 1:00 PM. Space is still available. Register here or go to: de360.d-e.org to learn more.
Hug your child, and Go Bulldogs!
Sincerely,
Kathy Christoph
MS Principal