Health and Wellness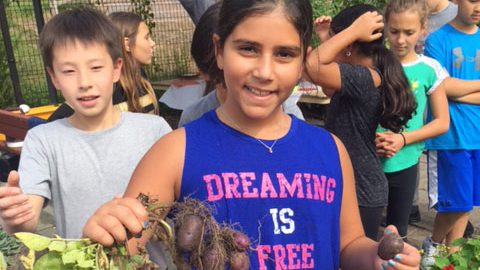 Ready. Set. Go! And we're off! Our MS students are off to another great year filled with learning experiences, enjoyable lessons, and fitness-focused exercises during their Health and Wellness classes.
The sixth graders are gaining a first-hand experience in our MS curriculum acclimating themselves to their new environment and understanding the importance of physical fitness, proper nutrition, the development of spatial relationships, and the enhancement of hand-eye and foot-eye coordination. The sixth grade classes began an inaugural program of learning about nutrition in a "hands on" approach. The Health and Wellness department worked together with Ms. Urbanowski, our DIG (D-E in the Garden) Discovery Class teacher and Grade 6 Dean. Each class hiked to the garden, picked their own vegetable, learned about the six areas of nutrition, then finally discovered how to categorize their vegetable or fruit. In the days to come, each student will create their own nutritious lunch which will need to contain all six nutrients.
In our seventh grade classes, students have been enjoying their "Sticks and Racquets" unit in which they learn how to play sports such as lacrosse, tennis, field hockey, badminton, and especially pickleball…a student favorite!!
 Our eighth grade students have also learned the skills, strategies, and rules of "Outdoor Team Sports" such as football, soccer, rugby, softball, and an assortment of frisbee activities.
There are many exciting things that our MS students will soon be experiencing in their Health and Wellness classes during the second marking period. Students will take part in a bi-annual assessment, called FitnessGram, in which each individual will be tested in areas such as muscular strength, cardiovascular endurance, and flexibility. Some classes will begin participating in Health programs in which they will learn things such as the male and female anatomy, stages of development, nutrition, along with other things.
Our race towards learning has just begun!