Happenings in our Middle School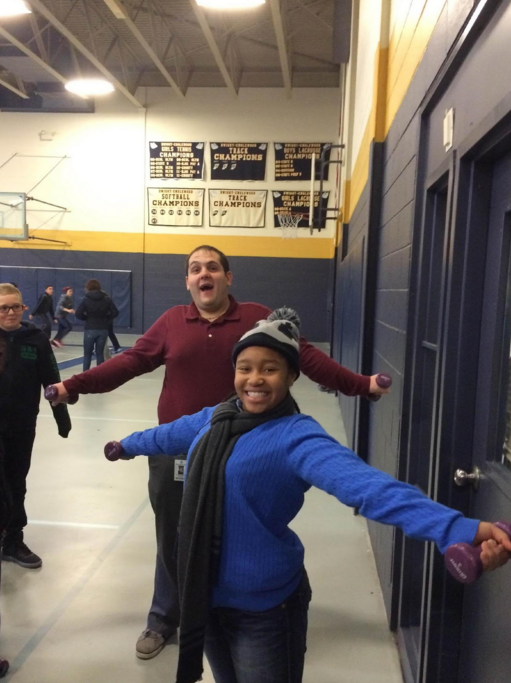 We started out the New Year with Wellness Week, designed and coordinated by our Health and Wellness Department.  Throughout the week, students and faculty engaged in a variety of experiences that highlighted the different components of Wellness: physical, emotional, environmental, intellectual, and spiritual. It seemed like the entire school got involved, including Morning Meeting, Assembly, HomeBase, recess, Imperatore Library, Dining Hall, drama classes and health and wellness classes! Here are a few highlights:
Each day during recess, a fitness challenge was held between all students who wished to participate and faculty members. We held push up contests, plank contests, iron cross contests, wall sit contests, and sack races. Interestingly, students won a few and the faculty won a few. (And many of us decided to get fitter!)
Faculty was encouraged to pop over to the Modell Center and get in a workout during their free period.
The theme for our Thursday Assembly fit right in with the Wellness concept. Mr. Alan Lokos, our featured presenter, is the founder and guiding teacher of the Community Meditation Center located on New York City's upper west side. He is the author of Pocket Peace: Effective Practices for Enlightened Living, Patience: The Art of Peaceful Living, and Through the Flames: Overcoming Disaster Through Compassion, Patience, and Determination.
On Christmas day, 2012, Mr. Lokos and his wife Susanna Weiss were in a horrific plane crash in Burma. Doctors in four countries said that he could not possibly survive his injuries. Yet he did and has gone on to thrive in his teaching and writing. Mr. Lokos captured the interest of the entire Middle School with his story and by sharing some simple mindfulness exercises we each can engage in.  (And as an interesting side note, Mr. Lokos is the grandparent of a D-E Lower School student, and the building neighbor of one of our NY MS students!)
It's important to activate, energize, and stimulate our brains, especially after sitting for a period of time. So, during Wellness Week, teachers and students tried out several 10- to 30-second brain breaks. Research indicates that brain breaks improve students' concentration and relieve stress and are a quick and effective way of changing or focusing our physical and mental state.

Watch our Middle School students participate in "The Wall", one of the special Wellness Week recess activities.
The Middle School Honor Code is taking a leadership role in creating a Blog wall. Although they are still working out the details, they envision the Blog wall will be accessible to the whole Middle School to share successes, happenings, and current events (with adult supervision, of course!)
Our Assembly honoring Dr. Martin Luther King, Jr. was simply fabulous. Over the past few years, we have worked with Mr. Clinton Carbon, Director of Multi-Cultural Affairs, to develop presentations that highlight not only the important work of Dr. King, but also the work of Up-standers who helped contribute and lead. It's important to me that our students view themselves as leaders and realize that they can make a difference, and learning about others is one way to help further that vision. This year, the focus was on the power of students and their critical role in the civil rights movement. The film we watched, Selma: The Bridge to the Ballot and put out by the Southern Poverty Law Center, was one of the best films for young adolescents that I have ever seen.  I encourage you to watch it. Debriefing occurred in HomeBases, and these are some of the questions used to start the conversations:
Why do you think that students played the biggest role in organizing protests in Selma?

What role did Dr. King play in the Selma march and protests?

Can you see yourself reflected in the passions of the youth in the movie?
In a new student leadership experience in Drama class, the 8th grade students designed short lesson plans about Mindfulness practices. They then had the opportunity to actually teach their plans, but not to each other. This time, they had a different audience—Lower School students!
Our Chess Club hosted a special guest last week. A FIDE Chess Master, which means his international rank is higher than 2300, spent time with the students, playing and teaching.  He even played without looking at the board! Turns out that the Chess Master, Mr. Volkov, is the parent of one of our 6th grade students.  Thanks for sharing your expertise with us.