Grade Level Updates: A Last Look This Year!
May has been a busy month for our sixth graders. In science, students worked diligently to complete their experiments and lab reports in anticipation for their Experimental Design Fair (see photos both above and below – scroll down!). The Fair itself was a wonderful success. Students shared their findings about a range of consumer products including toothpaste, backpacks, ice cream, popcorn, and paper towels.
In social studies, the students worked hard preparing for another sixth grade capstone experience: Greek Day. This celebration took place yesterday on Graham Field. The students are split into four teams — Delphi, Sparta, Thebes, and Athens — and they compete in the Sisyphus Relay, the Archimedes Building Competition, a discus throw, a pottery competition, and a trivia competition. This day is a wonderful celebration of their study of Ancient Greece this past semester. Enjoy hearing from our Grecians here: https://www.youtube.com/watch?v=_V0XV76skpE&feature=youtu.be
In English, the students wrote their second literary essay about the novel The Lions of Little Rock. The students showed tremendous progress in their second essay. Additionally, they had the opportunity to Skype with the author of the book, Kristin Levine; the experience was extremely interesting and special. The students then selected a cumulative project to share with their class. Projects included pretend social media accounts for the characters we met this year, soundtracks for the books we read, rap songs, and comic strips.
In Math 6, students recently finished an algebra unit. Students were introduced to using letters to represent unknown numbers (variables), writing algebraic expressions in one variable, evaluating expressions in one variable using substitution, and simplifying algebraic expressions in one variable by adding or subtracting like terms. Students then moved on to solving one and two step equations. In advanced math 6, students revisited solving multi-step equations, and investigated the connection between algebra and geometry. Students also worked in groups of 3, to solve a particular type of math challenge, called a "Fermi" problem. Enrico Fermi was a famous Physicist who liked to pose open-ended problems (which often didn't have a single answer) to his students. These problems are not only fun math, but they give one practice estimating, thinking about assumptions and justifying your thoughts about a problem.
Advanced Math 6 students solved this question: "How many hours do the students of D-E spend on Instagram each month? Each group came up with assumptions, agreed on a way to come up with an answer, did the math, and wrote their solution on the board and shared with their classmates. It was interesting to see how close these answers were to one another!
In Hyper Math 6, the students have done a lot of work connecting equations to graphs, using Absolute Value equations and Quadratic equations. This work leads to the all-important notion of Transformation of functions which the students will learn a lot about in ensuing math courses. We have had a wonderful year, and we wish the Class of 2023 the best of luck in seventh grade!
And finally a shout-out to Mete Ehliz '23, a member of our Hyper 6 Math class, who just decided he wanted to solve the Geometry problem that was sent around to the Math faculty. He presented his solution, had it all down and was able to explain it to his classmates. Mete needed a couple of hints, but he really pulled it all together and explained it well – and learned some math in the process. A great example of the kinds of risk-taking we love to see!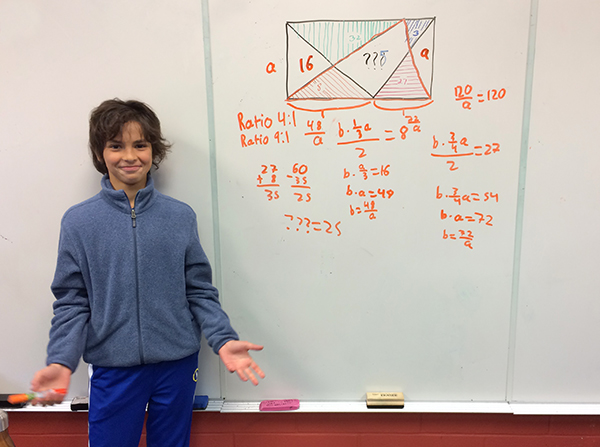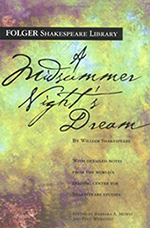 Our 7th graders continued investigating green technologies.  In science, students researched the impacts that these technologies will make on our planet. In tandem with Science, students will be calculated in their Mathematics classes how much energy is reduced, the cost efficiency and, comparing the new versus the old life time costs.  The 7th grade Advanced Math students learned what a linear function looks like. They will apply this knowledge to future projects in Science.  Our 7th grade Hyper Math students continued to learn about quadratic functions and how to apply them in real world situations.  Math 7 has just finished the Algebra Unit with equations and the slope intercept form. They have also started working on ratios, proportions and rates.  These topics will be quite handy for the green technology PBL.
In English, our 7's read Shakespeare's beloved classic A Midsummer Night's Dream. They rehearsed for the final project in which they performed scenes from the play.
The 8th grade ended the school year with four different adventures. Celebrating the end of major assignments like the Portfolio project in English and SciTube in Science, students headed out into to the world to "SEEK" lessons that they had not learned in the classroom.  In this inaugural year of the SEEK trips, students had a choice of four different destinations: Newport, RI; the Berkshires; Washington, D.C.; or Lake Placid, NY.  What follows are some highlights of the different trips:
In Newport, students explored mansions, war tunnels under Civil War forts, a classic car museum, and the mysterious Newport Tower.
Students who went to the Berkshires toured modern art museums as well as the Norman Rockwell Museum. In addition, they attended Barrington Stage Company's performance of "Kunstler."
Those who ventured to go to Lake Placid did a ropes course, met Olympians, and visited Ausable Chasm where they hiked the Upper Chasm and rafted down the Lower Chasm.
Finally, the 8th graders who traveled to our Nation's Capital went to the Holocaust Museum, honored the fallen at Arlington Cemetery and did a bike tour of the major monuments.
In all, it was a wonderful way to close out an exciting year of learning.
From the Language Arts Department
During our annual MS Language Festival all our students showcased their skits, poems, PBL research, dances, etc. It was beautifully done. Our 6th graders studied their favorite animals from a variety of habitats, and prepared a presentation in Spanish describing characteristics, food preferences, locations, and more.  Our 7th graders researched Spanish landmarks such as "Las Ramblas" in Barcelona or "La Plaza Mayor" in Salamanca, and described their information in a story format in the present tense.  Some of our 8th graders researched Spanish celebrations such as "La Quinceañera", "La Corrida de Toros", "La Tomatina", etc. and described their experience at the event in the past tense. Others learned how to navigate in "El Metro" of Mexico City. They used the imperative tense to give directions to get from point A to point B. Our 8th grade French students just finished reading a book in French called Pauvre Anne. The goal was to learn more vocabulary through seeing it in the target language as well as to learn more irregular verbs and to review the ones they already knew. Finally, they created an evaluation for this book. Our Latin 7th grade students finished up a unit that featured a "novella" about a freed slave and a discussion of the institution of slavery.
From our Performing and Visual Arts Department:
What a wonderfully, fantastic MS Spring Arts Festival, featuring our singers, and artists! The tee-shirts we made came out fantastic (special thanks to Friends of The Arts (FOTA) for organizing parent volunteers to do the ironing.)
7th grade drama students have spent time learning their lines and then connecting to the characters and the circumstances of the scenes in an effort to make them as authentic as possible.
8th grade drama just finished reading and watching Tennessee William's, The Glass Menagerie and created original group or individual projects based on the play or the playwright. The finished products were shared with each other.
Studio Art 6 students constructed their buildings and surrounding areas for the City Design Remix models.  They have been working in teams and learning about and using various tools such as X Acto knives, hot glue guns, acrylic paints and applying faux finishes with different materials.
Studio Art 7 students were busy learning and utilizing linear and atmospheric perspective in their drawings, then finishing these works in watercolors.  In this project seventh grade students demonstrate knowledge of Color Theory principles and various painting techniques.
Art Explorations students just completed the handmade paper poster project.  They designed and constructed a functional duct-tape item for the final project this year.
See below for some additional photos from the 6th Grade Experimental Design Fair!