Grade 6: For the last month, the sixth grade has been immersed in our Food and Identity Unit. The students are looking forward to sharing their work at our celebration on February 9th from 9:00 – 10:30 in Hajjar Auditorium. We hope many of you will be able to join us!
Each class examined the role of food and culture in their discipline. In math, students investigated how large a square acre is and compared it to the size of Leggett Field. Students measured Leggett Field in groups and then worked on solving problems about how many bushels of corn a farm of a certain size would yield. Students are working towards solving a math problem relating to the amount of corn the population of her/his town would consume in a day and a year. In the Hyper math class, the students also investigated which set of stairs on campus had the biggest slope, and then they presented their work on the Stairs Project to the Middle School at Morning Meeting this past Monday. They are beginning a new project to be presented after spring break.
In science class, students analyzed a meal and created a "plate" of food sharing how much of the food they eat is made up of GMO foods, conventional farming foods, organic foods, and unknown foods. Then, students will finish their Genetics unit with a DNA extraction lab and Punnett square activity. Also, in recognition of Black History Month students will be researching an African American scientist and his/her contributions to the science community.
In English and social studies, students explored their food culture through a collaborative piece of writing. In English, the students wrote about their own personal food culture, such as a food memory. Then, they connected this piece of writing to their work in social studies, where they were asked to research the food culture of a country from which their family comes. They were introduced to research databases and practiced using multiple sources to piece together information. To pull it all together, the students wrote a comparison of their own personal food culture compared to the one they researched.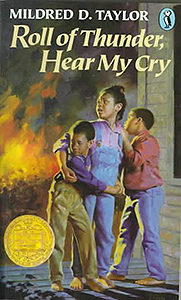 Following the conclusion of the Identity unit, the students have begun the study of ancient Greece in social studies. They are starting with Greek Mythology and then moving into the factual history of Greece, which will culminate in a collaborative project in which students construct a timeline of Greek history. In English, the students began reading Roll of Thunder, Hear My Cry by Mildred Taylor this week, a wonderful historical fiction novel that takes place in Mississippi in 1933. There is a lot of interesting learning happening in our hall these days; ask your child to tell you a little bit about it!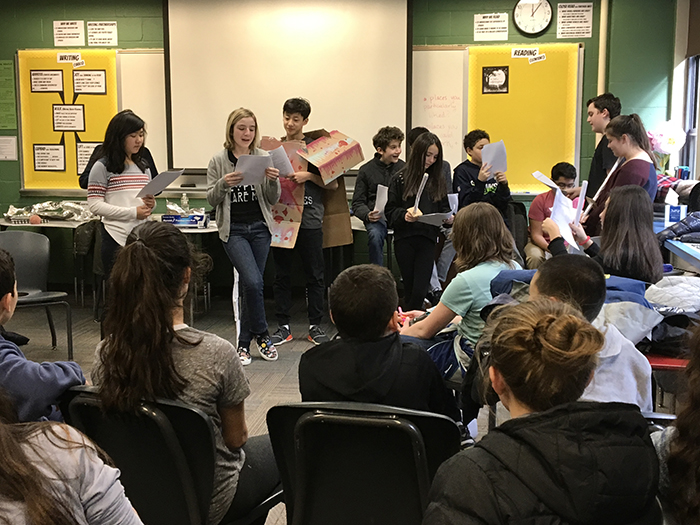 Several Grade 7 students wrote and then presented original plays together with their classmates, as part of their Social Studies research on "Sumarai Rising" and related projects on conflict and "Why We Fight." Here is one class reading a script in Mr. Schade's class. 
Grade 7: The 7th graders are hard at work wrapping up their Conservation Conversation projects in science.  Each student is working towards convincing the audience that we should care about wildlife, and be mindful of our impact as humans on the natural world.  In English, students are finishing their reading of Lord of the Flies by William Golding. As the novel ends, they are paying particular attention to the theme of civilization v. savagery: In order to survive, is it more important "to have rules and agree, or to hunt and kill?" (142).
Next week, on Monday February 6th, the 7th grade will be going to the United Nations as part of their work in Social Studies class. We will depart school by 8:30 AM, have tours of the UN, and then return to D-E for an activity related to the trip. This trip will take place during the regular school day.
Parents/Guardians Please Note: Due to the security measures in place at the UN, we are unable to take bagged lunches/any food or water/liquid with us. Each student will need to purchase food from the UN Cafeteria. Around $15.00 should be enough. Sorry for this late notice. Please contact Ms. Traub if this is a problem at traube@d-e.org or call 201-227-3236.
Grade 8: On February 1st and 2nd, 8th graders presented their "Making a Difference" (MaD) projects to both peers and professional panelists. At the heart of the presentation was the Dream Speech. Learning from the oratorical devices that Dr. King used in his "I Have a Dream" speech, students wrote impassioned speeches with the goal of inspiring their audience to be 'upstanders'.  Concurrently, students have continued to read the classic To Kill a Mockingbird in English class. The lessons of empathy and courage found in the novel helped students navigate the muddy waters of the social justice issues at the core of their MaD presentations.  In Science class, students are learning to classify and identify rocks and minerals and are gearing up for a field trip to the Natural History Museum in New York City.  This field trip will test their scientific knowledge and push them to use their algebraic thinking, which they have been honing in Math class.