Grade 6: We really enjoyed seeing so many parents and teachers at our Food and Identity Unit Celebration this past Thursday. It was a great way to culminate the unit, and students enjoyed sharing their work with adults in our community. In addition to sharing their work, students enjoyed a fabulous feast, comprised of foods that represented our diverse community. A big thank you to everyone who made it possible! The students all have the full class "book" on their iPads, and each student will be bringing home their individual pages next week. Please ask your son or daughter to share it with you!
In social studies, students have begun to study Greek mythology. Their goal is to try to figure out what they can learn about the ancient Greeks based on their religious stories and the behavior of their gods. To help them, they are listening to "The Planets" Suite by Gustav Holst, which shows the students how enduring these stories and characters are.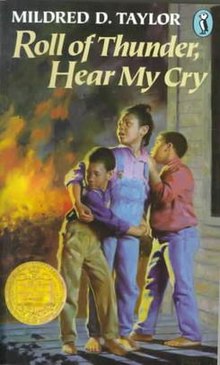 In English, the majority of January was spent on a food poetry unit. Using various types of poetry as an inspiration, students wrote a collection of food poetry. They picked two pieces to edit and polish. Students wrote about their favorite foods, eating various dishes, and cooking experiences. Highlights also included a food idiom lesson and concrete poetry (shape poetry), also inspired by food. Then, last week, students started reading Mildred Taylor's Roll of Thunder, Hear My Cry. This book takes place in 1930's Mississippi during the Great Depression. Students are tracking two themes in this book: coming of age and power. Close annotations will guide discussions and writing.
In science, students have been finishing up their work with understanding GMO's and organic foods. Students analyzed the pros and cons of both in their daily diets. Students also learned a basic understanding and DNA, which will be capped off with the Strawberry DNA extraction lab. Then, students will be researching an African-American scientist in recognition of their work and the month of February being Black History Month.
In Math 6, students have been hard at work on their corn PBL. They started the unit by doing research on corn farming in the USA. Students then explored real corn that was grown in the DE garden. Students estimated the length of the classroom before measuring it. They used the measurement of the classroom to inform the estimate of the hallway before they measured it. The students then estimated the length and width of Umpleby parking lot, and then they measured it in groups. The students used the measurements to get a better understanding of how big a square acre is. This was significant for their understanding of farms that have as many as 600 acres of corn fields. Students also completed computations, using calculators to figure how many kernels per ear, per bushel, per acre as well as, how many rows per acre, bushels per acre etc. Advanced Math students did all of the same work but completed more pages of cornfield math calculations. The Hyper Math class spent time estimating and measuring linear quantities like the 3rd floor Umpleby corridor, and the length and width of the Big (Sherman) Gym and Small (Silberfein) Gym. They also learned how to write algebraic expressions for lengths and widths increased by percentages and determining how those changes would affect any resulting change in area. They brought our work back to the PBL Food unit by determining how much food (corn, in particular) could be grown in one acre, and how much a farmer could earn from the corn in one acre and did research to determine the origin of the number of square feet in one acre.
Finally, to celebrate a month of hard work, the sixth graders spent Friday afternoon ice skating, bowling, and playing games at the Englewood Field Club. Everyone had a wonderful time!
Grade 7: The seventh grade started off our February visiting the United Nations.  This jumpstarts our team-wide cross-curricular UN PBL.  The main question students will be focusing on throughout the unit in each class is "Are we moving towards a better world"?  The project has started off in both social studies and science.  Students are researching issues related to the UN Sustainable Development Goals in social studies and are completing STEM challenges based on some of these issues in science.  Meanwhile, students are finishing up a mini unit on Slope in Advance Math 7.  Lastly, in English students recently met with the author An Na, the author of the novel A Step From Heaven. They have now moved on to writing an analytical essay in response to the text.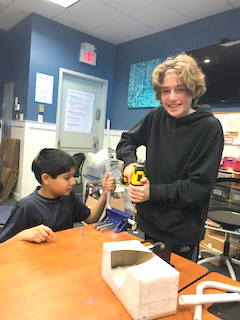 Students in Dean Aitken's Grade 7 grade Movie Innovation Discovery Class recently completed a 3-week creative build PBL project in the Taub Center.  The project challenged students to create and build their own movie making equipment, focusing specifically on camera stabilization.  With some build models as a guide, students worked in groups of 2 to create both Steadicams and Gimbal camera stabilization devices.  Along the way they ran into several obstacles such as poor hardware, screw or bolts that did not fit, and other construction issues, and they were asked to creatively solve all of these problems.  Each day saw students hammering, sawing, gluing, tapping and wrenching all with mixed materials of metal, PVC and wood.  As the groups finished, they underwent field testing focused on evaluating the effectiveness of their devices through six test moving camera shots (4MPH +).  Adjustments were made as needed and then students wrote final reflections on their devices and on usage techniques.  Finally, the class analyzed the test shots and looked at the most effective shots discussing what made them work so well.  The next project the groups will undertake will be the creation of a live action "dialogue less" short film, with several moving camera scenes of course, utilizing their newly created camera stabilizers.