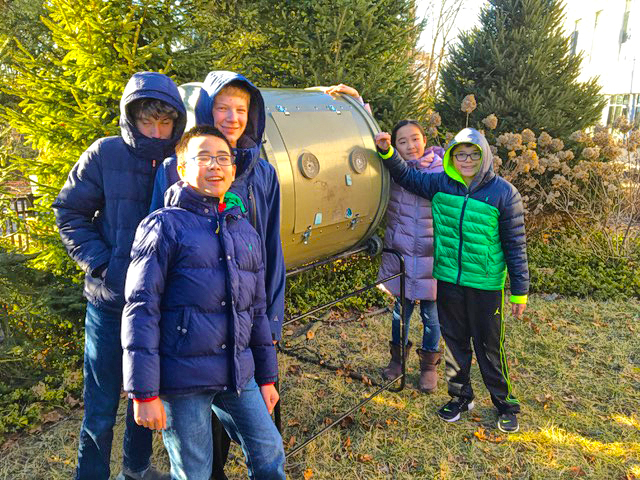 Contributed by Grade 6 Dean Tasha Urbanowski
One of the easiest ways we can all "go green" is to compost our food waste.  If we just throw them away, food scraps clog landfills and add to greenhouse gas emissions — and we waste valuable nutrients that could be going back into the soil in which we grow new food!
Earlier this month, the MS Garden Club assembled a new compost bin to enable us to get back to saving our scraps in a temporary location during construction of the new MS building.  The temporary location is visible from the cafeteria and so helps remind students and faculty of the value and routine of composting.  It also creates the opportunity for an US graphic design class to work on an interesting project: signage that will further the educational objective of school compost bins.
Cafeteria staff save vegetable bits left over from the salad bar preparations, and students on lunch duty and the Upper School's Environmental club dump these, coffee grounds from the faculty coffee station, and some post-tray waste (such as banana peels) into the "ComposTumbler" every day.
Garden Club notes that, while they are a bit of a nuisance to set up, the metal bins make composting — and especially turning the compost to help it decompose evenly — neat and quick.  Students can dump waste after lunch, spin the bins, and still get back to class on time.  We are proud to be making our own fertilizer for the school garden and to be helping the cafeteria maintain its green restaurant certification by managing some food waste in an earth-friendly way.