From Kathy Christoph, MS Principal
Folks,
We've got kids!
It was wonderful to fling open our school doors on Tuesday and greet the students as they came flocking in. The day was jam-packed with all sorts of orientation activities designed to establish strong relationships and feelings of comfort among the students and with the teachers.
Here are some photos from our first day of school.
To watch a video of a special performance during our Opening Assembly earlier this week, featuring some of our Middle School students dancing, click here.
Reminder from the School Nurse
Reminder, all students must complete their Health Disclosure, Authorizations & Immunizations Forms along with the State of NJ PreParticipation Physical Evaluation. If your student will be participating in a team sport more than 90 days after the physical exam, the Health Update Questionnaire must be completed before the start of practice. Forms are available at www.d-e.org/start. For more information contact Sara Schulman at 201-227-3163  or email Ms. Schulman at schuls@d-e.org if you have further questions.
Parent Volunteer Opportunities
We encourage all our parents/guardians to join the All-Volunteer Kickoff Event on Friday, September 16th. RSVP to: Nicole Ferrentino at ferren@d-e.org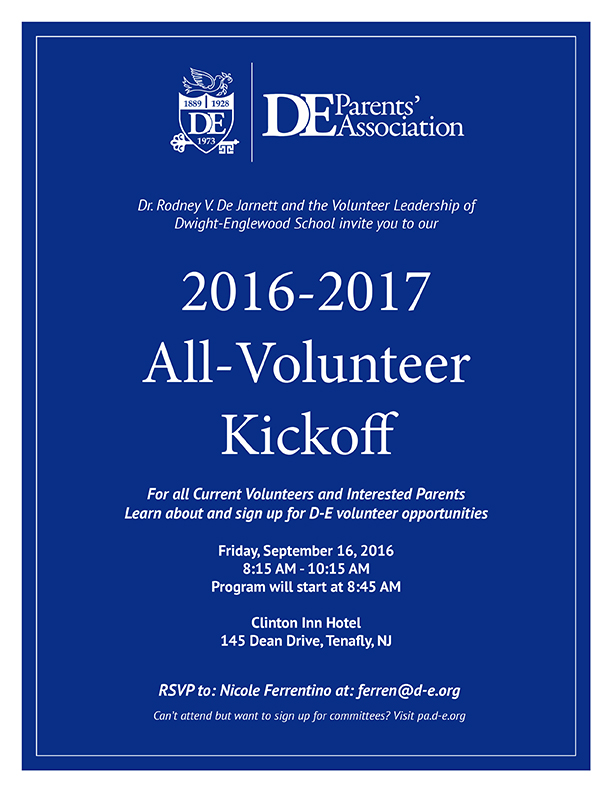 You can volunteer anytime online at pa.d-e.org and click here to read and download the PDF description of our many Parent Volunteer Opportunities.
Calendar Updates:
Tuesday, September 13
Middle School sports begin
Orientation for All parents new to Middle School, 7:00-9:00 pm
Thursday, September 15
Middle School Photo Day. (See Start of School for Picture Form)
Monday, September 19
Thursday, September 22
Back to School Night 6:30-9:50
We look forward to a great 2016 – 2017 school year with our Middle Schoolers!
Go Bulldogs,
Kathy Christoph