Folks,
Last Friday while your children enjoyed a day off from school, our Middle School (MS) teachers spent time writing thoughtful comments about the strengths, challenges, opportunities and patterns of each child in each of their classes. For more information about our approach and process, please read our Dean's Message below.
If you were to walk through our halls, you would see many of our classroom doors sporting various decorations. As a fun activity and as part of Spirit Week, HomeBase groups were challenged to come up with a theme and turn it into a door decoration, all within a few days time. I think most groups enjoyed the creative exercise along with the teamwork that it required. Some of the doors can be seen here:
Spirit Week also includes a favorite event: our Pep Rally, with fun obstacle course and relay-style races between students and faculty/staff.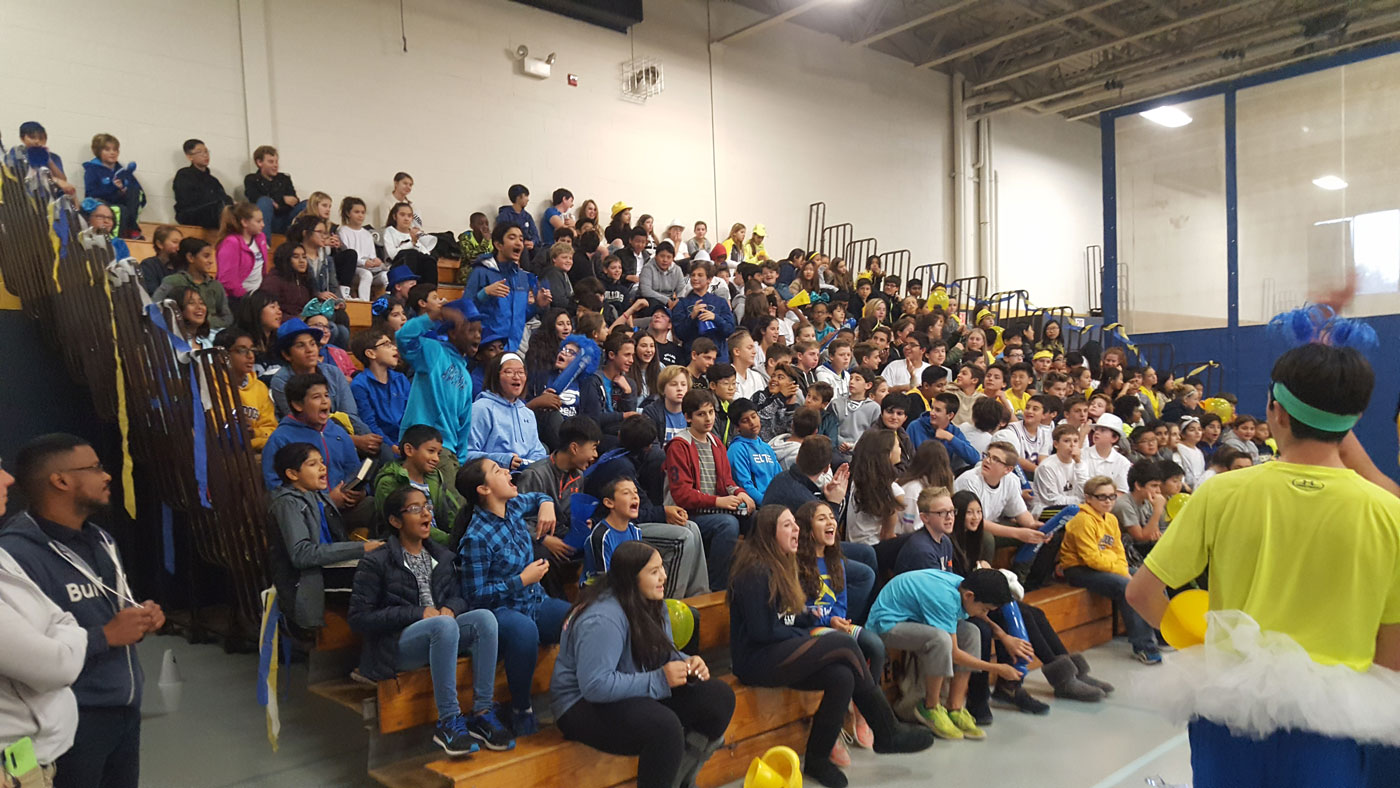 Even though the food has been harvested, our gardening efforts continue throughout the year. We have two vegetable gardens, a composting arena, a tiny pond and a greenhouse — which systems offer opportunities for observation, experimentation, soil study and problem-solving that teachers and classes find especially useful. Right now, in this season of transition, there are many interesting changes going on in the garden and plants and insects in almost every stage of life.
This slideshow requires JavaScript.
I love it when our Assemblies spotlight our own students—it gives them an opportunity to shine, to share their talents, and gain valuable presentation and leadership skills. This week, we were regaled by several of our students of Indian heritage who danced, sang, recited poetry and taught us about the celebration of Diwali. They even ran a tightly contested Jeopardy game. Well done!
In photos both above and below you can see images from this past weekend, when Mr. Egan coached a team of Middle School students in an ultimate frisbee tournament held at Mercer Community College. The team played other Middle School teams including several from Westfield, Watchung and Maple Hills. For these 'Bulldogs' first experience playing in an official competition, they did a great job!
Upcoming Morning Meetings and Assembly themes:
Week of Nov. 7: MM-Election and SaL traits. Assembly-Comment Reflection
Week of Nov. 14: MM-SaL traits. Assembly- Talent Show
Week of Nov. 21: MM-Food & Nutrition, SaL traits. Assembly: All School Thanksgiving Assembly. 4-Star Dress.
Upcoming Events and Activities:
Nov. 10: FCD Event for parents of our 7's and 8's: 7:00-8:30
Nov. 11: Comments released to parents
Nov. 14: Pick-a-Time for Parent Conferences opens.
Nov. 14: Winter Sports begin.
Nov. 21: Interim grades released to students during the day and parents during the evening.
Nov. 22: All School Thanksgiving Assembly. 4-Star Dress.
Nov. 29: ScreenAgers showing, 6:45-9:00 pm.
Hug your child and Go Bulldogs!