Deans' Message: Not Your Parents' "Report Cards"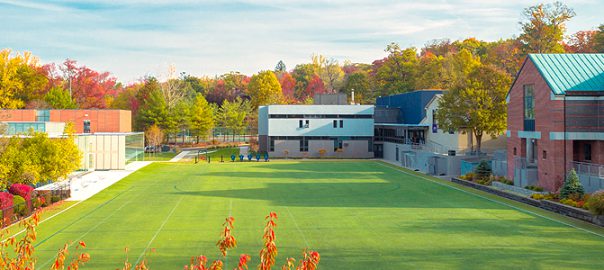 In Mid-November, the first written report cards summarizing student progress become available.  But the reports you will receive are not just the old-fashioned list of grades our own parents may have received – and which may still feel familiar to many parents today. Instead, in keeping with our mission to help our students become lifelong learners who take ownership of their learning, D-E "comments" at the midterm of each semester are designed to be an opportunity for students to explore their own process critically, to recognize and cultivate the Student-as-Learner (SaL) traits that we know are critical to lifelong success, and to learn to advocate for themselves with the support of invested and insightful teachers.
Teachers write comments in November to their students to help those students more clearly see their own approach to their work, and to allow students an opportunity to step back from the daily details and take stock.  As they write, teachers have in mind these SaL characteristics that we strive to cultivate, such as creativity, engagement, and daily preparation, in addition to their specific subject content.  Teachers' comments are released to students during an extended HomeBase (HB) period. HB advisors guide the students in reading and analyzing the comments, with an eye to helping students recognize and celebrate their own successful learning habits as well as set goals for further progress.  Students write reflections about their report cards, discuss their thoughts with their HB teachers, and make notes with questions for their subject-area teachers.  The next day, the comments are released to your parent account. (Please note, to view Comments, you will need to LogIn into MyD-E and click "Report Cards" under your child's picture on her profile page.)  This is a wonderful opportunity for you to sit down with your child and encourage him to share his thoughts and goals and to support his successful approach to learning and to addressing any challenges.  Written comments are followed by the release of letter grades about a week later (with the exception of 6th grade), and, in all three MS grades, by a parent-teacher conference in December. (You will receive an Email from Mrs. Christoph soon, about how to sign up for conferences using the automated PickATime online system.).
Of course, the written summary comments at the November midterm are not the only feedback students receive. You have likely already seen several pieces of work — sent home for a signature – from your child's teachers.  These papers, quizzes and projects can give you an idea of your child's progress and also a sense of the material being addressed in each subject.   This work is also a window into the feedback that teachers give on a regular basis and the coaching your child receives all along the way both in mastering content and in developing strong student skills and effective work habits.  The pieces on which teachers ask for signature are a sampling of work and a way for teachers to encourage students to discuss their progress and approach to work with you throughout the year, not just at report card time.  We hope you enjoy these conversations with your child and feel free to reach out to teachers — or encourage your child to do so – with any questions.
Questions? Please contact us or your child's HB advisor.
 Grade 6 Dean Tasha Urbanowski: urbant@d-e.org
Grade 7 Dean Liz Traub: traube@d-e.org
Grade 8 Dean James Aitken: aitkej@d-e.org
The first semester's midterm comments in 2017 will be released for student perusal during HomeBase on Thursday, November 9 and to parents on Friday, November 10.
Grades for 7th and 8th graders become available to students on Wednesday, November 15 and to parents/guardians on the Thursday, November 16.