Next week, Friday, January 20, first semester grades for 7th and 8th grade students and checklists for 6th grade students will be released to them during an Extended HomeBase period. HomeBase teachers will guide the students in reviewing the grades or checklists, with an eye to helping students recognize and celebrate their own successful learning habits as well as set goals for further progress.  Students write reflections about their progress, discuss their thoughts with their HB teachers and make notes with questions for their subject-area teachers.  Later in the evening, the grades or checklists are released to your parent account. (Log-in to "MyDE" and click "Report Cards" under your child's picture on her profile page. For log-in help call the Technology Department at 201-227-3177 or email help@d-e.org. )  This is a wonderful opportunity for you to sit down with your child, encourage them to share their thoughts and goals, and support their successful approach to learning and to addressing any challenges.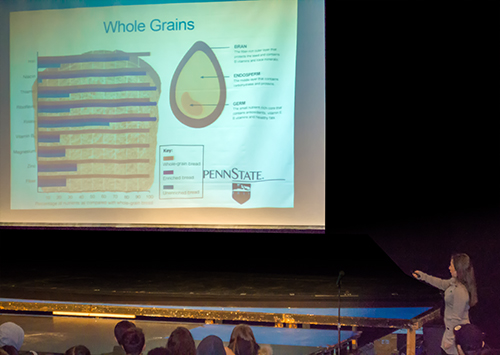 Last week's assembly focused on nutrition and was presented by Farrell Frankel '05, a D-E alumna. Farrell is a full time sports dietitian at Penn State University in the NCAA Big 10 conference and works with more than 800 athletes from 31 Division 1 teams. In addition to her role in athletics, Farrell also teaches a sports nutrition course to undergraduate students at Penn State. Farrell graduated from Dwight-Englewood in 2005 and went to college at Colorado College where she studied Psychology before pursuing her Master's Degree in Nutrition at Simmons College in Boston. Farrell followed up her talk in assembly by visiting some of our Physical Education classes and answering questions about athletic performance, healthy nutritional habits, and myths about food.
This week's assembly focuses on our Student as Learner (SaL) traits. And rather than sit and listen about the traits, each child will be actively engaged in creative activities that require the use of the SaL traits. You may want to ask your child whether their group participated in the survival scenario, marshmallow spaghetti, the newspaper bridge or the lifeboat!
At Morning Meeting this week, Our Honor Code student committee highlighted one of our core values: that of honesty. Click here to view the video the Honor Code put together.
Next week, on Thursday, January 19, is our Martin Luther King assembly.
On January 26, we will have an assembly on the Elephant Highway, a not-for-profit that was started by two teenage brothers who went to Africa on a safari with their family and saw the plight of the elephants and wanted to make a difference. (These brothers are also the cousins of 10th grade students here at D-E). If you are interested in learning more about the Elephant Highway click here or go to: https://www.elephanthighway.org/.
Mr. Schade, our 7th grade Social Studies teacher, will be conducting the 2017 National Geographic D-E School Geography Bee on Tuesday, January 24, starting in activity period beginning at 2:35 PM. This is an exciting opportunity for students to test their geography knowledge, have a little fun, and have the potential to advance to the state geography bee which will be conducted in March. Even if your child may feel like s/he doesn't know that much, they might be surprised at how much they actually do. Students sign up by emailing Mr. Schade at schadm@d-e.org.