Folks,
The recent school shooting incident in Florida has left many of us reeling from yet one more mass shooting spree involving students.  The reverberations are being felt across our country and your children may be feeling anxious, frightened, or uneasy about feeling safe, whether it is at home or at school. When I stood before your children last week, I was torn between wanting to promise safety and needing to acknowledge the very real-ness of our world. I hope I was able to find the right balance. It is quite natural that our children, and each of us, may have strong emotions and tough questions about the safety and security of D-E, their homes, and on a grander scale, their world. I did not enjoy having to address our young adolescents, just as I imagine, as parents, you do not either. Yet, we must.  So, here are a few questions, talking points, and resources that I share, with the deepest hope that, sometime in the future, these will be unnecessary.
What is D-E doing to protect our children and staff?
The Administrative Team takes seriously its charge of safety. We spend much time developing plans, evaluating protocols and updating policies. We have an armed police officer on campus during school days who walks our grounds. The police vehicle is parked in a conspicuous place for travelers to notice. We have a communication notification system that allows us to reach you using multiple modalities—text, email, website, phone.  There are several cameras placed around campus, and these are monitored by three different groups. We have fenced in our campus and have established a staffed guard house.  We train, practice, and hone our plans for various emergencies. At D-E, the adult and the student relationships are very strong. Our young adolescents often tell an adult when they are concerned about a classmate. We encourage them to live by the "see something, say something" motto.  We have a social-emotional curriculum, HomeBase advisors, small class sizes, and a Student Support Team which have all been proactive in identifying the social-emotional needs of young adolescents. Most importantly, we continue to learn and we continue to update.
How do I talk with my child about the school shooting in Florida?
According to the American Psychological Association, "Psychologists who work in the area of trauma and recovery advise parents to use the troubling news of school shootings as an opportunity to talk and listen to their children. It is important, say these psychologists, to be honest. Parents should acknowledge to children that bad things do happen, but also reassure them with the information that many people are working to keep them safe, including their parents, teachers and local police."
A few more suggestions and resources/links:
Encourage your child to ask questions, and answer those questions directly. Your child/teen may have some difficult questions about the incident. For example, she may ask if it is possible that it could happen at your workplace; she is probably really asking whether it is "likely." The concern about recurrence will be an issue for caregivers and children/teens alike. While it is important to discuss the likelihood of this risk, she is also asking if she is safe. This may be a time to review plans your family has for keeping safe in the event of any crisis situation. Do give any information you have on the help and support the victims and their families are receiving. Like adults, children/teens are better able to cope with a difficult situation when they have the facts about it. Having question-and-answer talks gives your child ongoing support as he or she begins to cope with the range of emotions stirred up by this tragedy.
Be a positive role model. Consider sharing your feelings about the events with your child/teen, but at a level they can understand. You may express sadness and empathy for the victims and their families. You may share some worry, but it is important to also share ideas for coping with difficult situations like this tragedy. When you speak of the quick response by law enforcement and medical personnel to help the victims (and the heroic or generous efforts of ordinary citizens), you help your child/teen see that there can be good, even in the midst of such a horrific event.
Some other tips for parents (for any time of crisis or trauma) include:
maintain routines
model a clam reaction (can still show sadness too)
actively listen and allow children opportunities to share how they feel
correct distortions and inaccuracies regarding events
review safety protocols, remind children that these events are rare, and observe for children the many safety features already in place
(for families, consider: if a parent isn't home and you need help, who can you call? who are adults in the community, how can you contact them, where can you go)
limit exposure to media, especially video recordings of events
encourage engagement in pleasurable activities and spending time with loved ones
look for the helpers – actively recognize people who help on a daily basis
Resources Links: 
And a few brief reminders:
Homework Survey: Every so often, we like to check in on some practices as a division to ensure that we are achieving what we think we are.  One subject that is certainly always important to us is Homework – both in terms of quality and quantity.  It is our belief that whenever possible, homework should be meaningful and further student's learning.  It is also our belief that there should be a clear limit to the amount of homework we assign. With this in mind, our handbook states that "for middle school students, homework should take an average of 1&1/2 to 2 hours each evening."
So, the time has come again to check in on this to ensure that we are hitting the mark.  We will do this through brief surveys to students, parents and faculty.  Students will be asked to log how much time they spend each night on homework for a week and then two more times at the end of the two subsequent weeks.  Parents and teachers will be surveyed one time.  The teachers and administrators will look carefully at the data and make any adjustments as are necessary.  Please recognize the value of this survey.  We urge you to participate as it helps keep us all moving in the right direction.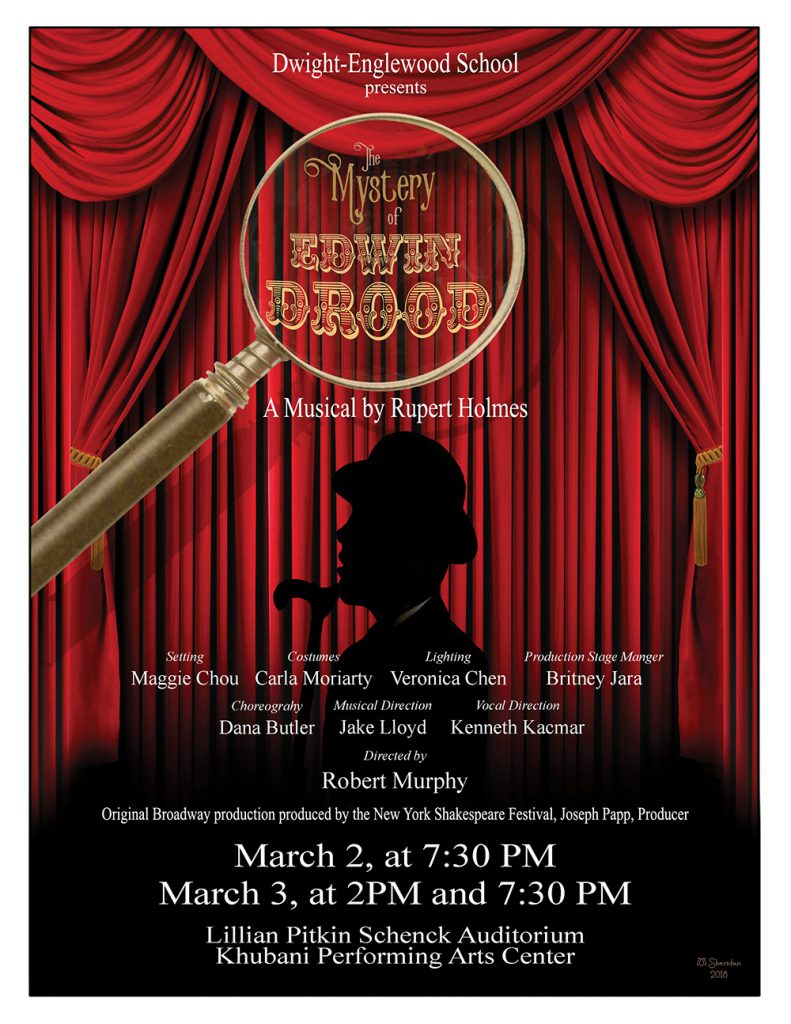 "The Mystery of Edwin Drood" A Musical by Rupert Holmes,  is performing this weekend by D-E Upper School students in D-E's Schenck Auditorium. This interactive mystery musical is a 'play within a play whodunit' . Showtimes are Friday, March 2 (7:00 PM) and Saturday, March 3 (2:00 PM and 7:30 PM). Tickets are on sale in the School Store or at the door, 30 minutes prior to curtain. For details visit www.d-e.org/arts.
Medical and Dental Appointments: In order to adhere to the rules and regulations set out in our Middle School Handbook, medical or dental appointments scheduled during the school day will require a note from the doctor or dentist. Notes may be emailed, faxed or brought to the attendance office by the student when he or she returns to school. Absences may remain unexcused until a note has been received. We thank you in advance for your cooperation.
Hug your child extra tight,
Kathy